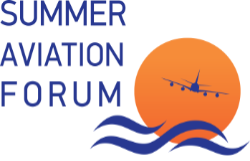 Aviation and Tourism: Challenges and opportunities
30 August 2023 – Rhodes, Greece
Air transport and tourism and structurally interdependent; the demand for air transport is of derived nature essentially depending on leisure, business and other tourism activities taking place in situ. Tourism collapsed during COVID-19 but it is now strongly rebounding: 2023 is expected to be a record year in many European Mediterranean countries at least. Sustainability and resilience prove of major importance for tourism destinations and this is also inevitably related to air transport strategies and operations.  This year's Summer Aviation Forum will bring together leaders of the aviation sector to discuss the future of air transport and tourism in the post-COVID19 world and how to navigate emerging geopolitical and economic uncertainties.
28 August
 – Ancient Theater of Lindos – Agios Stefanos Square
20:00 Classical Music Concert
Evgenia Votanopoulou (piano) & Nina Patrikidou (violin)
Organizers: South Aegean Region / Municipality of Rhodes / ΔΟΠΑΡ / Mozarteum Hellas
Under the auspices of the Austrian Embassy in Greece & Austrian Honorary Consulate of Dodecanese
21:30 Dinner (by invitation)
29 August
 – 
Museum of Modern Greek Art of Rhodes – 
New Wing of Nestorideion Melathron 
20:00 Classical Music Concert 
Evgenia Votanopoulou (piano), Nina Patrikidou (violin) & Dr Wolfgang Gerold (singer)
Organizers: South Aegean Region / Municipality of Rhodes / ΔΟΠΑΡ / Mozarteum Hellas
Under the auspices of the Austrian Embassy in Greece & Austrian Honorary Consulate of Dodecanese
In cooperation with Mozartgemeide Wien 
21:30 Dinner (by invitation)
30 August – Kallithea Springs 
13:00 Network by the beach 
16:00 Opening
Ioannis Stavlas, Managing Director, Summer Aviation Forum
Welcome Address
-Dr Kostas Iatrou, Director General, Hermes – Air Transport Organisation
16:20 Keynote Addresses
-Kostas Taraslias, Vice Mayor of Rhodes
-Henrik Hololei, Hors Classe Adviser, European Commission
-Glyn Hughes, Director General, TIACA
17:00 The OPS Award Ceremony 
17:10 Airline & organisation Leaders panel
Moderator: Dr Michael Kerkloh, Board Member, Lufthansa
-Jasmin Bajic, President & CEO, Croatia Airlines
-Catalin Radu, Director General, Aviation Administration of Kazakhstan
-Fadimatou Noutchemo Simo, President, YAAPA
-Michal Nowak, VP EMEA & Central Asia, Embraer
18:20 Airline & Airport Leaders panel
Moderator: Professor Andreas Papatheodorou, President, Hellenic Aviation Society
-David Ciceo, CEO, Cluj International Airport
-Riccardo Lambiris, Chairman, Athens International Airport
-Theodore Kiritsis, President, IFATSEA
-Dr Rado Kotorov, Founder & CEO, Storied Data Inc
19:25 Special Presentation – The Future
Adam A. Triolo, VP, Commercial Business Development. REGENT
19:35 Conclusions
Ioannis Stavlas, Managing Director, Summer Aviation Forum
19:40 Cocktail dinner by the beach 
The 2023 Summer Aviation Forum organized by Air Transport News  took place for the second consecutive year  on the island of Rhodes, Greece on the 30th August gathering aviation leaders from all over the world and focusing on the Subject of "Aviation and Tourism: Challenges and Opportunities" in the postCovid era amid existing and emerging geopolitical and economic challenges.
The participants commented on the resilience of the sector. Four years ago aviation seemed "invincible" experiencing the best times ever since its establishment but three years later it experienced its worst times ever. Air cargo though had a central, economic and social, role during the pandemic. Last and this year business travel and tourism have proven the doomsayers wrong because people want to fly and travel as substantiated by data even at the expense of other consumer spending. But the sector was not ready for that with the travelling public experiencing the worst ever disruptions. This year there has been extremely high demand exceeding the 2019 levels even with the low rate of flights from Asia and despite the Ukrainian war. But aviation should be complacent because it is out the crisis. There are still no resolutions to main challenges that the industry has been experiencing and will experience. Inflation and negative interest rates are eroding profitability and disposable incomes and the 35% increase of air tickets is not sustainable for the travelling public. Available capacity is an issue. Airports are saturated especially in Europe but cannot expand easily because of political and societal reactions. Technology and digital solution solutions can increase efficiency in the air. But airplane and engine manufactures are not able to deliver at the pace of demand and have difficult securing financing if the new fleets are not "green enough".
Another issue raised is that aviation needs also the meet the challenge of adapting its business model: Point to point flights on regional areas and beyond are increasing providing more competition and more options for the public but this trend might even affect the aircraft manufacturing sector. The rail sector is favoured on the short haul and aviation needs to accept this. It also needs to allow the new players in its overall ecosystem the innovative Air Mobility which by bringing to the market fully electrical devices of 10 or 30 seaters will change to the low altitude airspace.
But they all agreed that the biggest long term challenge is sustainability which for aviation is essentially "the license to grow if not to exist". Airports have done a better job on sustainability and visibility of their sustainability efforts. Airlines whose sustainable efforts are much more complicated and difficult to accomplish have been on the defensive in the last years because they have failed to understand that the sector's  2% contribution to the global CO2 emissions is quite high and that there are also non-C02 emissions.
And now aviation is "under attack" and has to fight bias against nigh flights, curfews, airport expansions etc. They all agreed that aviation should not be "shy" about its achievements and its role in society and economy. It is only by changing its narrative that will change the mindset of people and aviation awareness by the public.
It has to focus on the value aviation and cargo aviation transport brings by connecting people and economies and communities and contributing to life-long understanding of other parts of the globe.  Aviation and the unique connectivity it offers has been, is and will be a pivot for all industries.  Europe's free market has offered an important benefit to society since through increased competition it offers affordable air tickets and more connectivity. Air transport connects the world 35% global trade and this is not clear to the public. The participants stressed that the abolishment of ownership and total liberalization will only help economic and societal prosperity and the European free market model should be replicated in other areas. Aviation has been "a driver of growth to the future".
They concluded that failure to bring down the environmental impact will have detrimental effects for the sector. But a big problem of the industry is its "image". The public needs simple answers which are not easy to find in such a complicated and interconnected industry. But the sector should not give in to pressures but try to address societal expectations, work collaboratively to come up with solutions on the short and long term and increase aviation awareness by focusing on the value and the benefits aviation has brought and will continue to offer to the communities it serves and to the world. They also stressed that all different players come together to face the common challenges despite the different angles they approach these challenges and come up with environment, sustainability and resilience strategies.
The participants recognized the value of the forum as an important institution for dialogue. The participants had the pleasure to attend two music classical music concerts organized by South Aegean Region, the  Municipality of Rhodes, ΔΟΠΑΡ  and  Mozarteum Hellas and under the Auspices of the Austrian Embassy: on the 28h at Ancient Theater of Lindos and on the 29th at the Museum of Modern Greek Art with Evgenia Votanopoulou on the piano,  Nina Patrikidou on the violin and Dr Wolfgang Gerold singing.